Centurion-M turnstile access control solution featured with the most space-saving dimensions in combination to affordable price level.
One leg based pedestrian gate includes all the features and functionality as listed bellow.
Advantages
Bi-directional motorized tripod turnstile with panic / bar drop function;
High quality at a cost effective price;
Integration with any type of access control and ID systems;
Low power consumption;
Panic / bar drop function with automatic reset;
Whisper quiet, low noise operation;
Optional indoor or outdoor housing types;
Wide range of accessories;
Availability of a back up battery connection;
Complete supply set as a standard.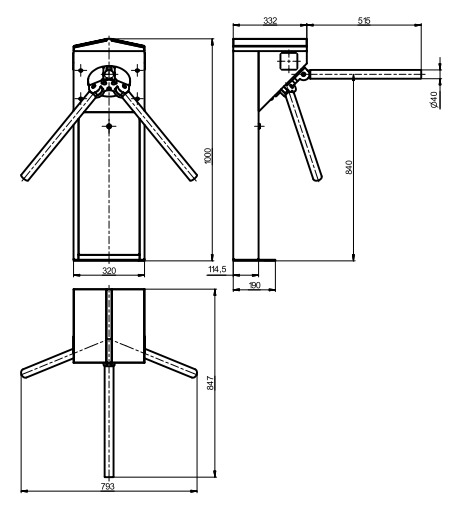 Unit dimensions (WxLxH), mm
Crossing capacity in free access mode, person/min
Crossing capacity in single access mode, person/min
Two electromechanical stop catches (separate locking system)
Emergency mode (when power goes off)
Arm drops when power goes off
Drop arm function can be activated when power is on Drop arm function activates automatically when power goes off
Brushed SS AISI 316
Polished SS AISI 304
Polished SS AISI 316
Powder coated (any RAL up on request)
AC (100-240)V, 50/60Hz;
DC source 12 V
Maximum power consumption